The knitwear brand is making a leap to the world's first carbon-negative retailer to go beyond fashion.
Who is Sheep Inc.
Based in London, UK, Sheep Inc., short for Sheep Included, is the first carbon-negative fashion brand. Founders Edzard van der Wyck, Michael Wessely and Gavin Erasmus embrace the idea to revolutionize the apparel industry in a hope that every Sheep Inc. product can spread the message of sustainability to as many as possible.* To do this, they work with suppliers with the same business philosophy from carbon-neutral farms to manufacturers who run on green energy. Sheep Inc. has evaluated all sources and uses premium Merino wool from Merino sheep living in New Zealand. This natural and biodegradable fiber is thinner and softer than regular wool and it is comfortable next to the skin and durable to withstand constant wear. After the raw material is cut from a sheep, it is further processed in a solar power factory, leaving zero waste and carbon footprint. Sheep Inc. is truly the pioneer to take environmental responsibility in the fashion industry.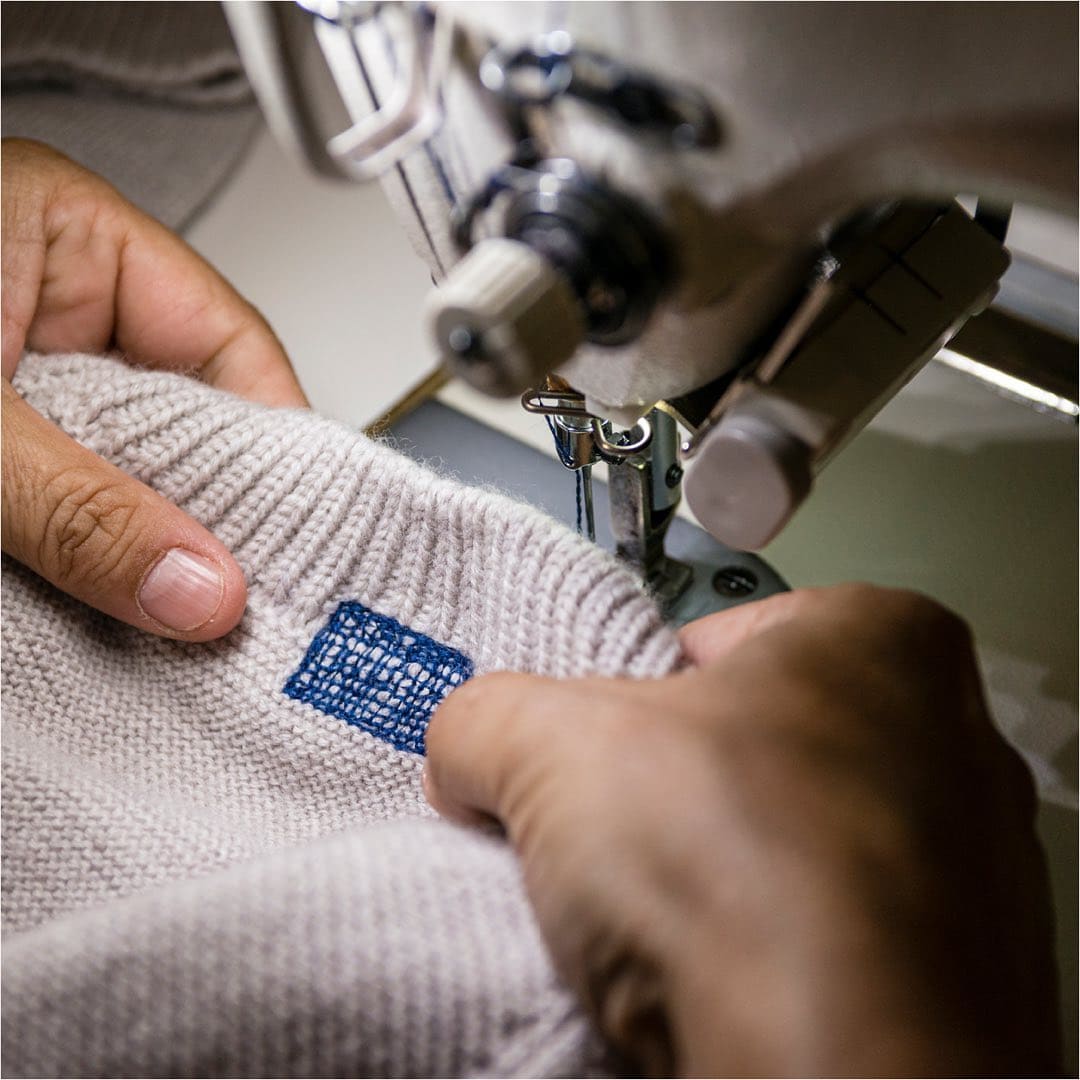 Fast Fashion Leads to Pollution and Climate Change
Fast fashion has been a trend that changes the way we consume clothes which are mass-produced to meet people's insatiable appetite, making the garment in your wardrobe have a shorter and limited lifespan when the newer and more stylish design is created. A 2021 report from the World Economic Forum said fashion and its supply chain, as the third largest polluter, releasing 5% of the world's greenhouse gas emissions generated from raw materials to production and the processing of shipping to a customer's hand. Let's take a closer look at the material used to create a garment. The synthetic fibers, composing 65% of clothing, come from fossil fuels. Nearly 3.5 million barrels of crude oil are used each year in production.* On the other hand, the recycling and reuse of the textile is too slow to catch up with the consumption, making most of the discarded clothes end up in landfills. And burning of them leads to another factor that exacerbates global warning when more toxic substances are released to the atmosphere. Due to this, textile production has then undoubtedly contributed to climate change.
THE ACTIVITY WAS CHALLENGING, REQUIRED A HIGH LEVEL OF INNOVATION, AND DIRECT ACTION AND/OR EXTENSION TO ACHIEVE THE PLANNED OUTCOME
Following a road not yet made
The use of polystyrene packaging is endemic across the world. Moving any business, including those in the seafood sector to new environmentally sustainable packaging requires a cost effective equal. To meet this need, Tom and Kath had to venture into uncharted territories of packaging design and manufacturing. The challenges included finding lightweight materials that could be re-used and recycled and which would provide equivalent or better thermal performance than polystyrene for transportation and storage of temperature sensitive goods such as seafood. The resulting TomKat KoolPak® consists of three unique components which have been individually designed to work as one unit: the frame, the interior, and the technology. The relationship between the three components plays a vital role thermally and in delivering many other desirable benefits. This is critical to protect goods against periods when they might be left out of the cold chain as they travel to market, such as time spent on the tarmac waiting to be loaded into planes.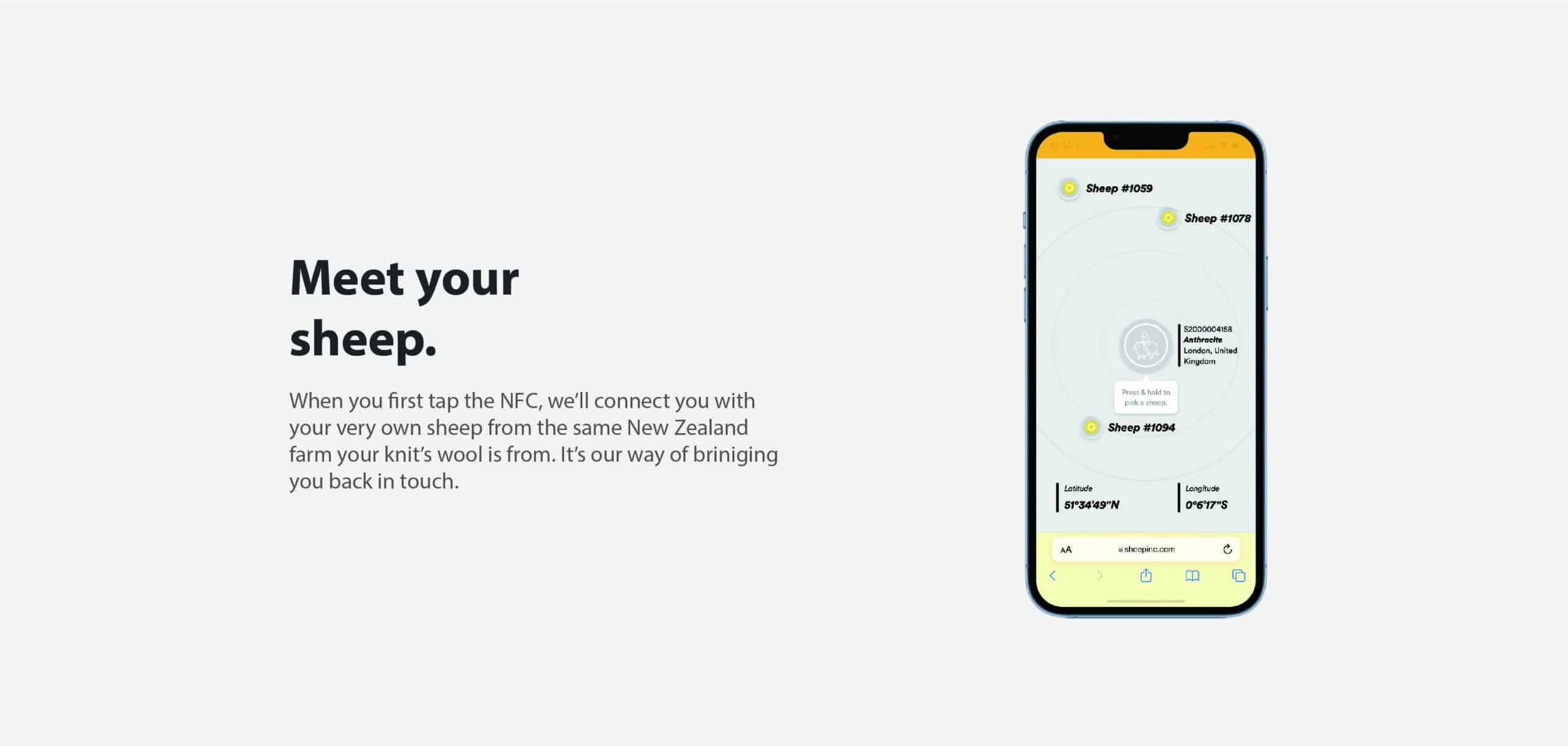 Bring Circular Economy to Textile Production
It is never too late to make a change to ensure clothing is durable and not disposable when a new business model is introduced to shift this trend. To make this happen, new technologies can bring the concept of circular economy from production to consumption into real shape when information on how the garment is created is accessible for the manufacturer and the customer. RFID can act as the enabler to realize the ambition to make a difference. This communication technology happens between a reader which generates a magnetic field from its antenna and a tag that can gain its power via coupling both in the proximity. Therefore, an RFID tag can be a battery-less device – small in size and cost-effective. Moreover, the value of RFID comes from each tagged item bearing an ID number so that data acquired facilitates the formation of an ecosystem that all parties involved can benefit from. That is to say, an RFID tag records all events during the production journey which gives visibility for the manufacturer in supply chain management. Meanwhile, consumers can get the information by their NFC-enabled phones to learn about the production history of their purchases. The brand owner can build a positive image in their marketing campaigns when a customer knows he/she is buying from someone who cares about the environment.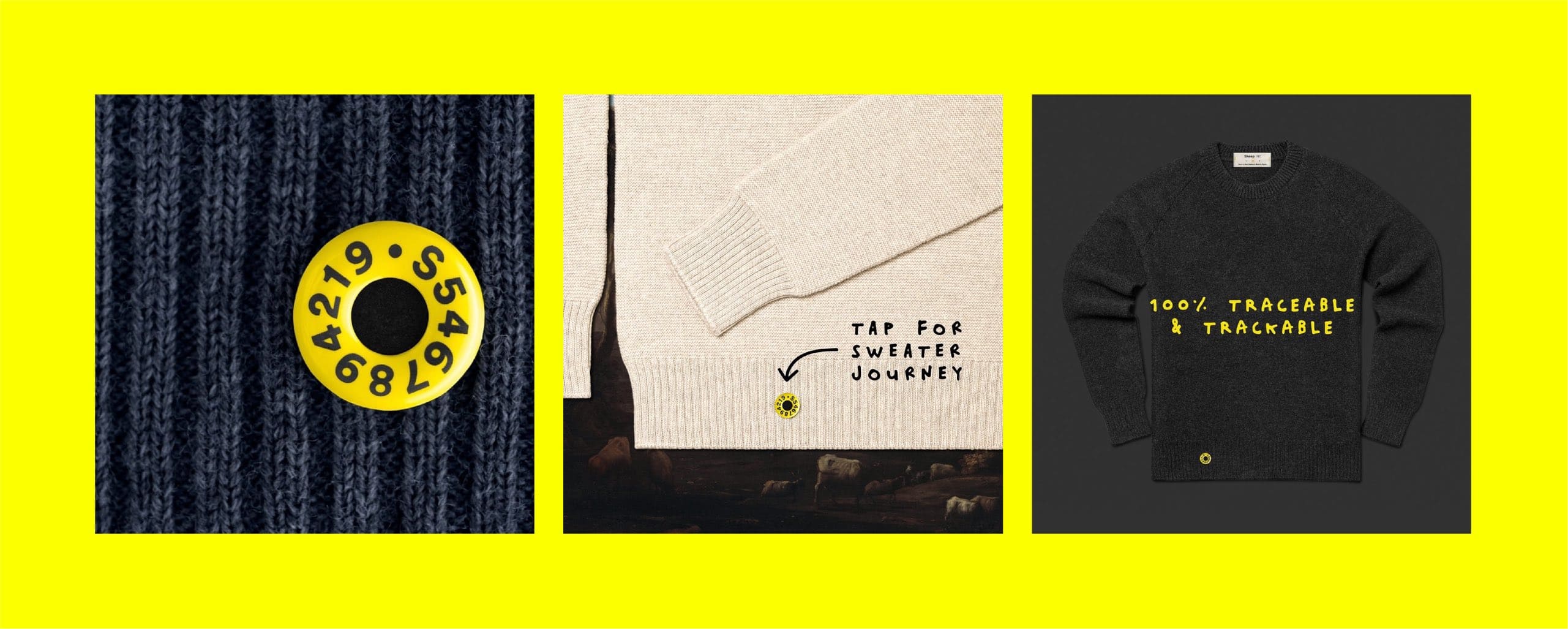 Your knitwear Can Tell You a Story
On the technical side, they make all the production process traceable with the help of Near Field Communication (NFC), a contactless communication technology using a radio frequency field based on 13.56MHz. NFC has been widely adopted as an effective tool for product authentication and customer engagement to a retail brand. Attaching an NFC tag to an item helps connect it to the digital world. Each Sheep Inc. knitwear features an NFC tag on the hem from day one and has always been part of the brand. Seritag, a professional NFC Tag supplier in the UK, provides the encoding service to the tag with a unique URL which will open up information by tapping an NFC-enabled phone. This allows the customer to get details of its manufacturing journey, namely the farm each batch of wool comes from and updates on the wellbeing of sheep providing the wool. The wearer can even be informed via push notifications when the sheep is being sheared and where it is. The way Sheep Inc. engages with customers encourages them to consider the life cycle of a garment and brings the idea of sustainability as a tangible thing in the fashion industry.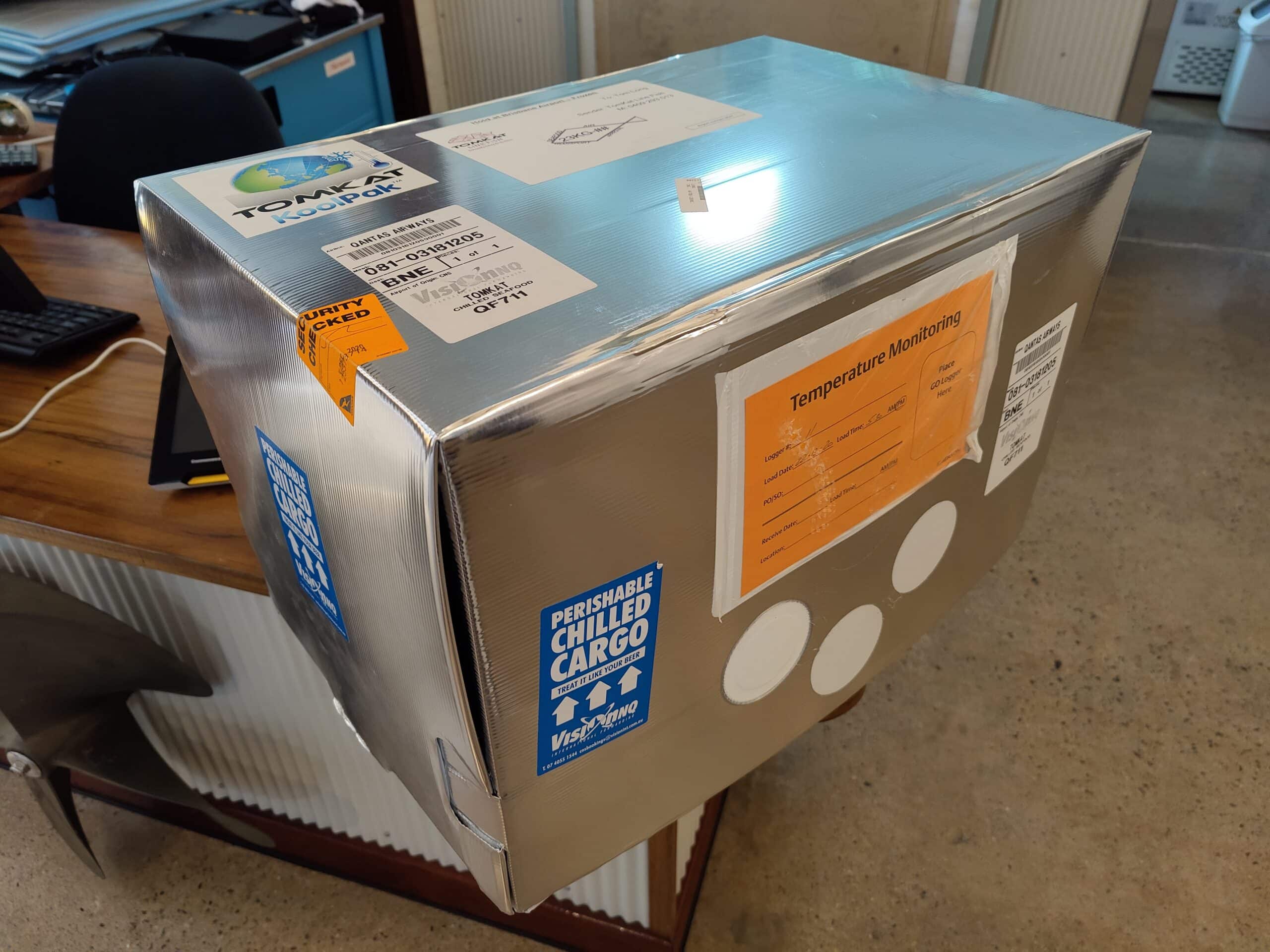 The KoolPak App uses NFC & block chain technology to track each KoolPak through its entire lifecycle, in partnership with SAG we have further developed battery-less NFC Temp Sensor Tag to suit our application, so clients can prove the provenance of their product, be confident in the safety and freshness of their consignment and avoid the added expense of food waste. All you need is a mobile phone. By 2025 Australia has a mandate to achieve more sustainable packaging. This data helps businesses validate their goals on sustainable packaging. The KoolPak has a larger interior capacity than an equivalent sized EPS box, as the EPS box has thicker walls, while also having airline approval for 25kg which is 25% more than an equivalent sized EPS box. A strong focus on environmental credentials and the product being both recyclable and designed for re-use has a significant economic benefit for the user. In-market testing indicates KoolPaks can easily be re-used 10 times; some trials have re-used boxes more than 20 times. The flat pack design offers additional savings by minimising transport costs and storage space required for empty boxes between use.
Everything Connected Online and Offline for a Positive Future
NFC technology allows Sheep Inc. to track their products, ensure their authenticity and create an opportunity to engage with consumers regarding origin of product, matching recommendations, and recycling initiatives. With all the information provided online and offline, this fashion brand attempts to make their customers become environment-conscious with a great effort by using NFC technology to create a unique customer experience. SAG is proud to play a role for Sheep Inc. by providing this waterproof and robust NFC tag made to survive daily use in all conditions and help spread the message of bringing a positive future.

*References:
Apparel Science https://apparelscience.com/worlds-first-carbon-negative-fashion-brand-includes-a-sheep-with-every-purchase/
Climate Council https://www.climatecouncil.org.au/resources/fast-fashion-climate-change/
https://stupid-studio.com/work/sheep-inc
https://sheepinc.com/blogs/sheepinc/why-we-include-a-sheep?currency=GBP&v=1653282367984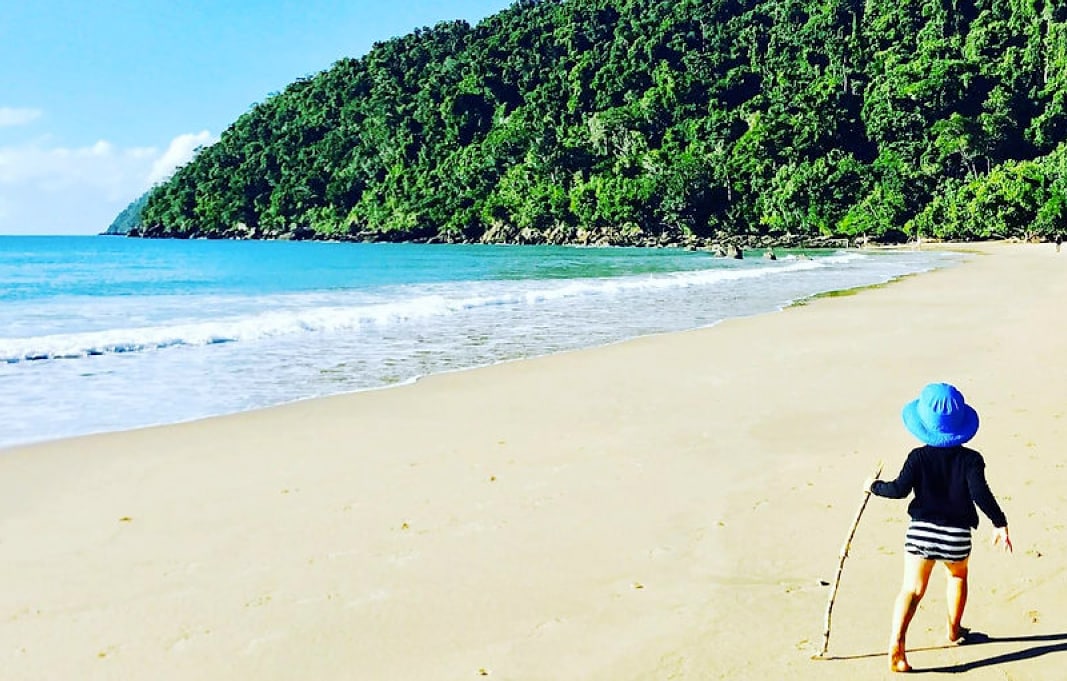 Our Track & Trace Supply Partners - Environmentally Focused
The KoolPak's sustainability credentials have already been supported by the World Wildlife Fund and the global NLA International – a Blue Economy solutions company. Local production and adoption will also help Australia meet its national commitments to ensure 100 per cent of packaging is reusable, recyclable, or compostable by 2025.
"We are all users and have a role to play in protecting and improving the environment. We live in a pristine part of the world. We want to keep it that way for generations to come."
SAG: Originally introduced to us by Texas Instruments, SAG has been instrumental in providing solutions for our NCF requirements, with specific focus on the battery-less NFC temp sensor tag. Our tag requirements are challenging, particularly when you consider the primary reading device is a mobile phone, multiple layers of material to read through and no battery. Other alternatives to NFC such as QR Codes, bar code etc were evaluated, however only NFC provides an effective way of registering the 3 KoolPak components as an assembled unit to a data base or blockchain in battery-less form.
NFC is central to our track & trace, SAG is 'best in business' not only from a technical & development perspective but also with tag manufacture and ability to supply in volume.
LUK Solutions: As with SAG, LUK have been on-board the project from the very start (2019) and instrumental in development of the KoolPak App, integration of NFC and gate scanner technologies within that. In combination they have systematically worked through the significant challenges involved, finding workable solutions to complex problems.
A standout for us, both SAG & LUK saw the value of the project even though it was a 'start-up'. They took on the risk of committing resources & time, we are very grateful to have them by our side and sharing the vision of KoolPak.