Molding Tag Has Excellent Low Temperature Resistibility
Features

● Ultra-small size in 6.7(L) x 6.7(W) x 0.75(T)mm
● Robust to resist extreme temperature: -60°C for 4700hrs, +200°C for 240hrs, +250°C for 24hrs
● Packaged with chip and antenna in simple form factor
● ISO/IEC 15693, NFC Forum Type 5 compliant

Applications

● Product authentication and counterfeiting for consumer electronics
● Equipment setup and configuration
● Process management
● Medical device and surgical instruments identification

SAG is specialized and dedicated to developing NFC tags to accommodate applications with challenges such as space limit, high/low temperature and production process to integrate an NFC tag into a final product. Now, Molding Tag is created to tackle these and makes everyday items to be identified in a contactless way.
Tag to Identify on NFC-enabled Devices
Molding Tag is a hassle-free tag solution with both the antenna and chip in a small form factor which helps effortlessly add NFC function to electronic devices. Equipped with STMicroelectronics NFC Type 5-compliant ST25TV02K chip (following ISO/IEC 15693 protocol), this tag enables a contactless communication between a device and NFC-enabled mobile phones via its RF interface.
Ultra-small but Robust to Guarantee Reliable Performance
Molding Tag comes with a small and thin structure, making it ideally go to a narrow space or small item. More than that, the enhanced protection to the chip and antenna effectively guarantees its resistibility under harsh environment at 200 °C for 240hrs and an extreme 250°C for 24hrs condition with proven performance.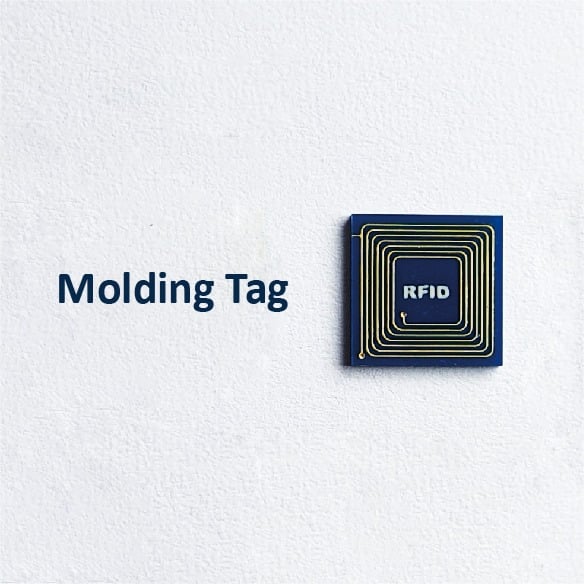 Customized Dimension for Versatile Application
SAG has the capability to profile this tag into the shape and size according to customer requirements. And you can apply this tag to non-metal items by using adhesive, epoxy potting or integrate it with the product via plastic injection. With the size flexibility and versatile tagging methods, Molding Tag extends NFC applications in every aspect.